Aboriginal works in the Chartwell Collection
By Ariane Craig-Smith — 31 March 2019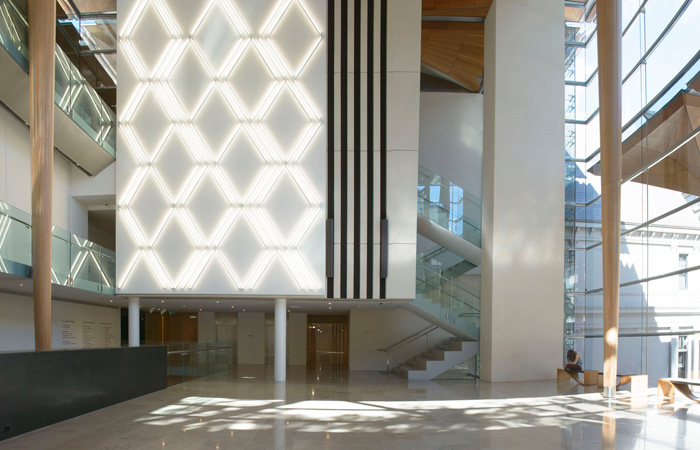 Currently on show in the atrium of the Auckland Art Gallery, in conjunction with the exhibition My Country: Contemporary Art from Black Australia, is a spectacular light work by contemporary Aboriginal artist Jonathan Jones. Untitled (sum of the parts), 2010, is from the Chartwell Collection, held on long term loan at the Auckland Art Gallery Toi o Tamaki, Auckland, New Zealand. Although appearing coolly Minimalist in its formation, for Jones the stronger references are to traditional Aboriginal concerns of country and community. The chevron designs are based upon the carved patterning of Koori (south-eastern Aboriginal) shields and the markings on possum-skin cloaks, and for Jones light symbolises life-force, with multiples of individual lights reference the formation of a community.
Other Chartwell works currently on show are Bush Yam Dreaming, c1994, by Emily Kame Kngwarreye, Going Walkabout, 1988, by Robert Campbell Jr. and Yakuri, 2008, by Dawn Naranatjil.
Untitled (sum of the parts) is one of the more recent additions to a substantial collection of works by Aboriginal artists within the Chartwell Collection, which began with purchases of a handful of paintings in the late 1980s and has grown and diversified since then to include works by some of the most renowned senior Aboriginal painters, including Mick Namerari Tjapaltjarri, Robert Campbell Jr. and Emily Kame Kngwarreye, young contemporary artists such as Jones and Brook Andrew, and key mid-career artists Gordon Bennett, Judy Watson and Tracey Moffatt.
Underpinning the development of the Chartwell Collection has been a consistent curiosity and interest in innovative art practice, in links and references between Australian and New Zealand contemporary art and a signature interest in meaningful mark marking. All of these concerns are reflected among the works by Aboriginal artists within the collection.
Acquisitions from 1987 to 1999
The first Aboriginal art acquisition into the Chartwell Collection, made in 1987, was an acrylic on linen painting by Billy Stockman Tjapaltjarri, titled Budgerigar Dreaming at Ilpitirri (1987). This work was purchased through Gabrielle Pizzi Gallery in Melbourne, one of the first dealers to promote Aboriginal Art from the Western Desert right from the early 1980s. IIpitirri is the place of the artist's birth in the Dreaming and this work is part of a larger Budgerigar Dreaming series. Billy Stockman Tjapaltjarri was one of the founding artists of the ground-breaking Papunya painting movement, which began in the early 1970s and saw the formation of the Papunya Tula collective. Another important early member of this movement was Mick Namerari Tjapaltjarri, three works by whom were added to the collection in 1995. To give some perspective to this 1987 purchase, one of the first contemporary Aboriginal paintings acquired by a state-owned Australian art museum was a work by Papunya Tula artists Tim Leura and Clifford Possum Tjapaltjarri purchased by the Art Gallery of New South Wales only 6 years earlier in 1981.1
Buying Australian work was an unusual thing for a New Zealand collector to be doing in the 1980s. Gardiner explains: "About that time, the government lifted the constraints on New Zealanders acquiring overseas currency. In the earliest stages I had to apply to the Reserve bank for funds to buy in Australia (the first Australian acquisition was in Melbourne in 1974 – a silkscreenprint by Alun Leech Jones), but those restrictions came off soon after. Closer Economic Relations (CER was a 1983 free trade agreement between the governments of New Zealand and Australia) also saw the two countries coming together economically."2
By the 1980s Gardiner was visiting Australia regularly to see major exhibitions and purchase works for the Collection. Trips were planned to include visits to galleries representing major artists, and as he became more aware of Aboriginal art, which was not widely supported in contemporary galleries at that time, he began to seek out the handful of galleries showing contemporary Aboriginal artists.
At the time that Gardiner was first encountering contemporary Aboriginal painting, he was also actively seeking out and studying the work of two other Australian painters, Tony Tuckson (1921 - 1973) and Scottish-born Ian Fairweather (1891 - 1974), both of whom used a direct mark making abstract style with restricted colour palettes. In the 1950s – 70s, when most New Zealand and Australian artists still looked to Europe or the USA for their visual reference and training, Fairweather and Tuckson, like Theo Schoon in New Zealand, were studying local artistic traditions for inspiration. Both were heavily influenced by experience of traditional Aboriginal painting and art practices, as well as, in the case of Fairweather, travelling throughout Asia and studying calligraphic painting traditions. As well as being an artist, Tuckson worked from 1950 as assistant director, then deputy director, of the Art Gallery of New South Wales, where he was ground-breaking for collecting and exhibiting traditional Aboriginal works as fine art, including curating a major touring exhibition Aboriginal Art in 1961.
Gardiner's interest in these two artists saw him acquiring Ian Fairweather's painting Nebula (1963), in 1988 from Charles Nodrum Gallery. Auckland Art Gallery Curator Ron Brownson has written about this work, "It was created at a time when many of his paintings reflected musical themes. On one hand, Nebula is connected with the raw, sandy landscape around the artist's island hut. Yet, it also plays with ideas about close silhouettes and deep space. Fairweather's paintings are fascinating because they look as if they have been painted at great speed but the opposite is true – they are always altered and then altered and then altered again."3
Several works by Tuckson were also added to the collection through the 1980s and 1990s, including a major acrylic and enamel painting, Black, Grey, White, 1970-73, acquired privately in 1995, the acquisition of which was reported in Australia at the time as the loss of an Australian masterpiece to a NZ collection.
An important New Zealand work had travelled in the other direction in 1978, with the gift to the National Gallery of Australia of Colin McCahon's huge Victory Over Death 2 (1970). This and other McCahon works were directly quoted by Aboriginal artist Gordon Bennett in works from the early 1990s which explored contemporary issues of identity. In 1998 Chartwell acquired Bennett's powerful Angry (Scared Too: After Colin McCahon) (1993) which, referencing McCahon's painting Scared (1976), reworks McCahon's painted words to express the anger and fear which pervade much of the Aboriginal experience of colonisation and contemporary life.
Driving Gardiner's interest in the painting process and style of Fairweather, Tuckson, and the Aboriginal painters, was his curiosity about mark-making and the picture surface, which firstly drew him to the works of Papunya Tula artists, then to the astonishing work of Emily Kame Kngwarreye, which he first discovered at the Utopia Gallery. As Gardiner describes it, "At the time there was a perception that one should understand and respect the meanings and stories driving Aboriginal works, from an anthropological point of view. But I was encountering these works without that knowledge and could only respond by empathy with their formal content, the energy of their marks, and the painterly languages involved. I was especially responsive to the revealed experience of the earth and body as surfaces in these paintings – a way to connect to land and bodies literally and figuratively, which seemed so different to western ways of viewing landscapes and figures (closer to the modernist surface but seeming to embody something extra: a respect for the painted surface out of respect for the earth?). These works seemed to be open to viewing as a kind of submission to the objective image, letting the need for meaning pass by, whilst being aware of the mystery of the unknown as a reality in the work."
These ideas also resonate in Pinpoint, Needlepoint (1994), a work by Judy Watson, an Aboriginal artist working, like Bennett, in the contemporary art realm, which was purchased in 1995. This work was made in India, by laying the fabric directly on the ground to absorb a "message mark" directly from the earth. In a recent conversation with Rob Gardiner Judy herself recalled this as a "brave" purchase for the time.
Chris Hodges, at Utopia Gallery in Sydney was an enormous help for acquisitions during the 1990s, as his knowledge of artists such as Emily Kame Kngwarreye and Mick Namarari Tjapaltjarri was extensive. Utopia Gallery had exhibited Aboriginal and non-Aboriginal artists in a contemporary context since 1988. Hodges has said, in an interview for Australian Art Review that "In those days the words 'contemporary Aboriginal art' were new. We introduced contemporary Aboriginal art into the contemporary art world... We weren't selling hundred-year-old boomerangs or ancient arts and crafts, but great pictures painted by artists who were alive and working today." Kngwarreye, who had been working in batik, came to painting aged around 80 and proceeded to produce a body of around 3000 paintings in the 8 years before her death in 1996. Chartwell acquired Kngwarreye's Untitled (Awelye), 1994, from Utopia Gallery the year after it was produced. After her death, her work represented Australia at the Venice Biennale in 1997, with Chartwell's Untitled (Awelye), 1994, one of the works selected to be shown at Venice. In 1998, at the Queensland Art Gallery, a retrospective of Kngwarreye's work Emily Kame Kngwarreye: Alhalkere — Paintings from Utopia was first shown. Afterwards, this exhibition travelled through Australia. Further works by Kngwarreye were acquired in 1997 and 1999 from Gow Langsford Gallery, Auckland.
Acquisitions from 2002 - present
The second significant phase of acquisition for Aboriginal works in the Collection reflects an important shift in the flow of art between Australia and New Zealand, when Australian artists began to be shown much more widely in New Zealand. In the early 2000s Mikala Dwyer, Hany Armanious, John Nixon and Dale Frank, for example, were all showing in New Zealand galleries on a regular basis and Chartwell was acquiring Australian work without the need for travel to Australia. As part of this increased interest in Australian art a small number of dealer galleries in Auckland started showing works by Aboriginal artists, enabling a Tracey Moffatt work to be purchased from a Gow Langsford Gallery exhibition in 2002. In 2008, ex-pat New Zealander Dick Bett, then running a gallery in Hobart, Tasmania, exhibited a series of Aboriginal works at Webb's in Auckland from which a painting by Margaret Turner Petyarre was added to the collection. Margaret, like Emily, was also from the Utopia region north-east of Alice Springs and, like Emily, was introduced to batik through a series of workshops in the late 1970s, before commencing to paint with acrylic on canvas later.
The most regular exhibitor of Aboriginal work in New Zealand has been Auckland dealer Tim Melville, who began to regularly show works by artists from Mornington Island in 2007 and Warmun artists in 2012. Chartwell immediately began acquiring works by these artists including Sally Gabori, Joseph Watt, Paula Paul and Dawn Naranatjil, and, most recently, Warmun Centre artist Gordon Barney and Mabel Juli.
One of the most recent Chartwell acquisitions highlights the innovation, adaptibility and collaboration that has characterised the development of Aboriginal contemporary art. Chartwell acquired the digital work, Light Painting (2010-11), by Nyapanyapa Yunupingu, along with a selection of the original drawings from which it is made, after Light Painting was exhibited at the Biennale of Sydney in 2012. Yunupingu started to paint on bark in 2007 in north-eastern Arnhem Land, working with Will Stubbs, the co-ordinator of the community-owned Buku-Larrnggay Mulka Centre. During the dry season when the supply of bark ran out Nyapanyapa had to paint on something else and it was sheets of acetate that were to hand. Prompted by Stubbs, a large group of the drawings were developed as photographically reproduced layers, almost infinite variations of which are randomly generated by a computer program developed for the purpose. The continuously evolving on-screen composite image changes so slowly that the viewer sees what, at first glance, appears to be a static picture, but has morphed into a different picture several minutes later.
Like Jones' installations, Yunupingu's Light Painting signals yet another stage of innovation in Aboriginal artistic development and cultural expression, translating traditional motifs and the continuity of the Dreaming through the new media of light.
---
1. home and away, Chartwell Collection, Auckland Art Gallery, 1999
2. home and away, Chartwell Collection, Auckland Art Gallery, 1999
3. http://aucklandartgallery.blogspot.co.nz