Ralph Hotere: Godwit/Kuaka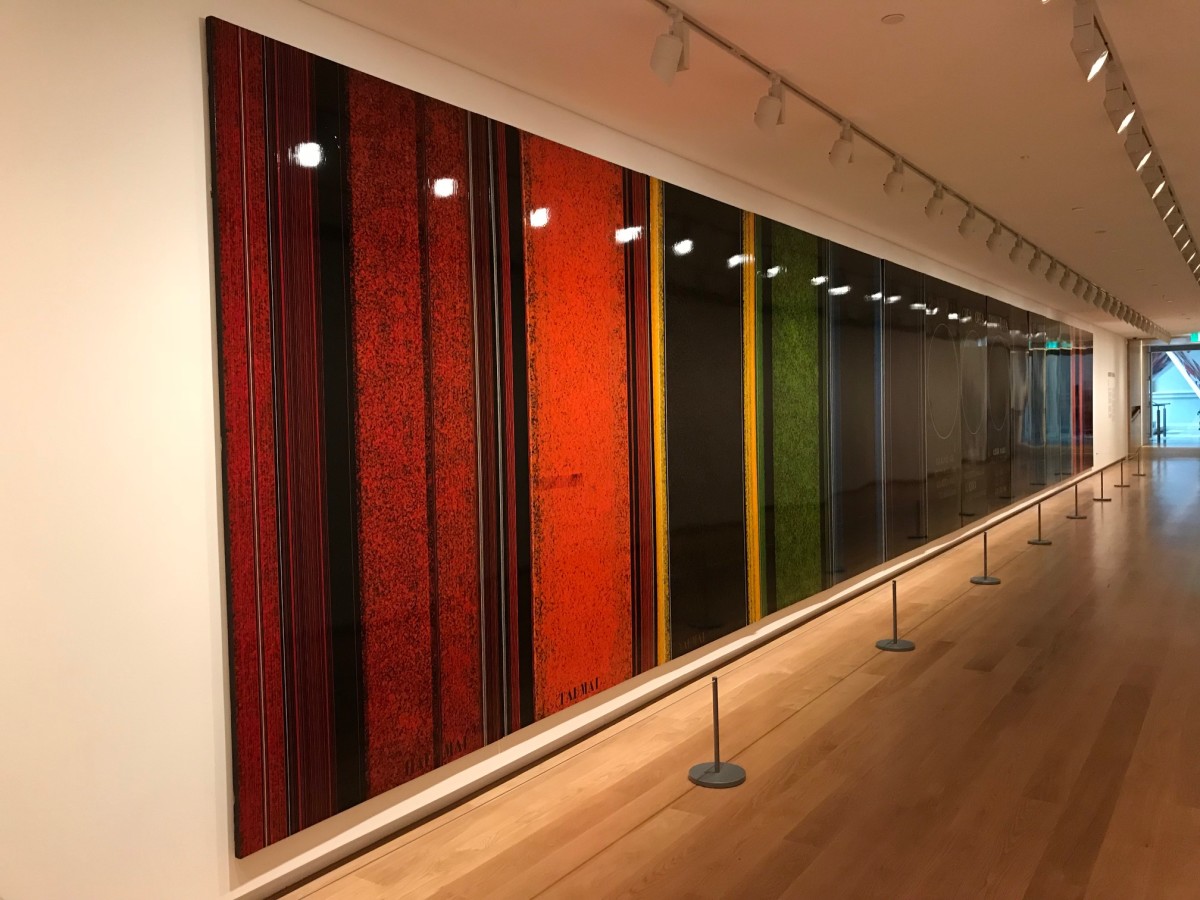 Ralph Hotere: Godwit/Kuaka
Where

Auckland Art Gallery Toi o Tāmaki

When

20 October 2018 - 30 June 2019
Ralph Hotere's magnificent work, Godwit/Kuaka, 1977, lacquer on hardboard, was on show when the Auckland Art Gallery Toi o Tamaki re-opened to the public in 2011 following a major re-development project. Accompanying the work at the time in the new exhibition space and carrying the work into the future is the voice of the artist himself, as he is heard reciting the Godwit/Kuaka chant. With Leyton Glen as the sound recordist, Hotere recorded the chant around 2010 and for the viewer of the work, it is an opportunity to bring the words of the poem to life. It was a chant that Ralph Hotere heard his father recite numerous times – a poem of welcome as well as an introduction to the history of Te Aupouri.
Hotere's voice accompanying the work is a privilege and adds to its ongoing significance. Auckland Art Gallery Toi o Tāmaki curator Ron Brownson was able to also ensure the recording was present when the work toured later to the City Gallery Wellington where it was also warmly received. Later in 2018, it returned on show at the Auckland Art Gallery. Commissioned originally by Auckland International Airport for the Arrivals Hall of the Jean Batten Terminal Building in 1977, the work entered the Chartwell Collection, underwent a substantial restoration and has become a much loved favourite for visitors to the Auckland Art Gallery. It is due to travel to Dunedin and Christchurch in the future for exhibition there.
Due to the scale of the 18 metre mural (2400 x 18000), viewers are encouraged to walk along the full length of the painting, feeling the sense of the journey of life through the symbol of the kuaka - a bar-tailed godwit which undertakes an unparalleled flight between New Zealand and Alaska.
At the centre of the mural are stencilled the words from the ancient Maori chant:
Ruia, ruia, opea opea, tahia tahia
Kia hemo ake
Ko te kaka koakoa
Kia herea mai
Te kawai koroki
Kia tata mai
I roto i tana pukorokoro whaikaro
He kuaka
He kuaka marangaranga
Kotahi manu
I tau ki te tahuna
Tau atu
Tau atu
Kua tau mai
Scattering, gathering, forming a single unit
Death/exhaustion rises up
It is the rope, koakoa (the cry of the bird)
Binding you here to me
The cry/chattering of the flock.
Come close together
From inside its throat - a marauding party
A godwit
A godwit that hovers
One bird
Has settled on the sand bank
it has settled over there
it has settled over there
They have settled here
From Kriselle Baker's essay on the Godwit/Kuaka Mural, published by Ron Sang Publications. Baker thanks Te Whanaupani Thompson (Nga Puhi/Ngati Wai) whose help proved invaluable with the translation of this poem.