A Place to Paint: Colin McCahon in Auckland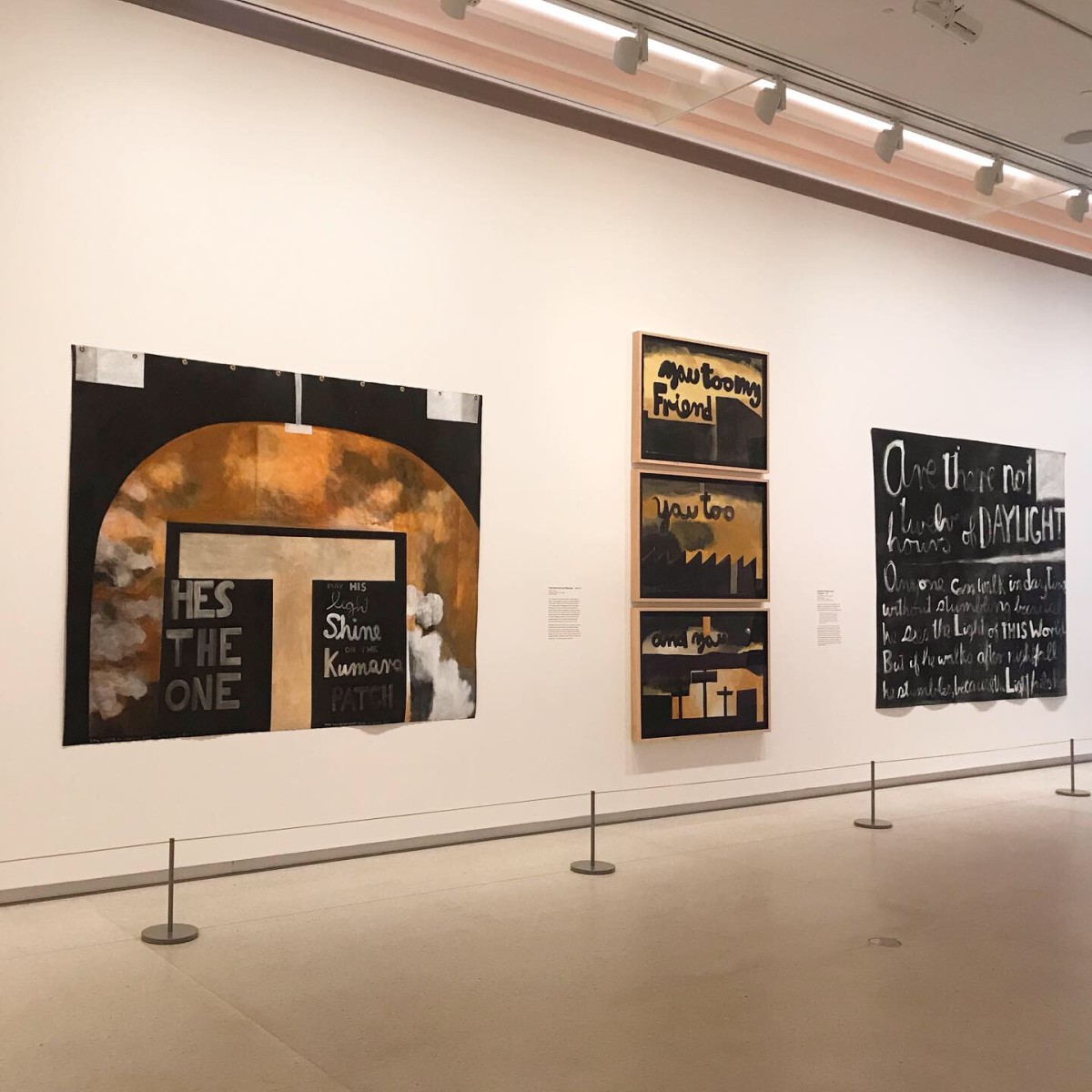 A Place to Paint: Colin McCahon in Auckland
Where

Auckland Art Gallery Toi o Tāmaki

When

10 September 2019 - 27 January 2020
A Place to Paint: Colin McCahon in Auckland was curated in celebration of the centenary of Colin McCahon's birth by Julia Waite and Ron Brownson. It considered McCahon's long-time relationship with Auckland and the significance of the physical, spiritual and cultural landscape on his painting.
The exhibition received widespread positive reviews and was a rare opportunity to trace the artist's growing ambitions and investigations over three decades. It featured the windows commissioned for the Convent Chapel of Our Lady of the Missions at Remuera which had not been seen in public since they were received in damaged condition by Auckland Art Gallery.
The Chartwell works in the exhibition represent some of the most highly regarded treasures in the Collection - Rocks at French Bay (1959), May His Light Shine (Tau Cross) (1978-9) and Are there not twelve hours of daylight (1970) presenting McCahon at his best. Complex compositions, spiritual ideas, text merging with abstraction, universal symbolism coupled with local story-telling and a range of dynamic, playful and exploratory paint actions mean these works are fine examples of McCahon's serious but also poetic and playful side.
As the curators wrote: "Colin McCahon moved to Auckland from Christchurch in May 1953 to begin work at Auckland City Art Gallery. McCahon's geographical shift north brought about a change in the focus of his art – from the human figure, and grandeur of southern landscapes, to his more local environment. He purchased a cottage for his family at French Bay, and set about painting the regenerating kauri forest that surrounded his home, and the Manukau Harbour at the end of the road.
For the next three decades, his painting responded to the landscapes around his homes and studios in the Waitakeres, inner-city Auckland and Muriwai. McCahon also created works that became part of Auckland's built environment – including the artworks commissioned for the Convent Chapel of Our Lady of the Missions at Remuera, which will be shown publicly with other large scale paintings from the 1960s. The 1970s and early 1980s will be represented by major paintings created at the Muriwai studio."
Sue Gardiner, Co-Director of the Chartwell Trust wrote about A Place to Paint as a musical experience here.
Installation Images