Energy Work: Kathy Barry/Sarah Smuts-Kennedy at Adam Art Gallery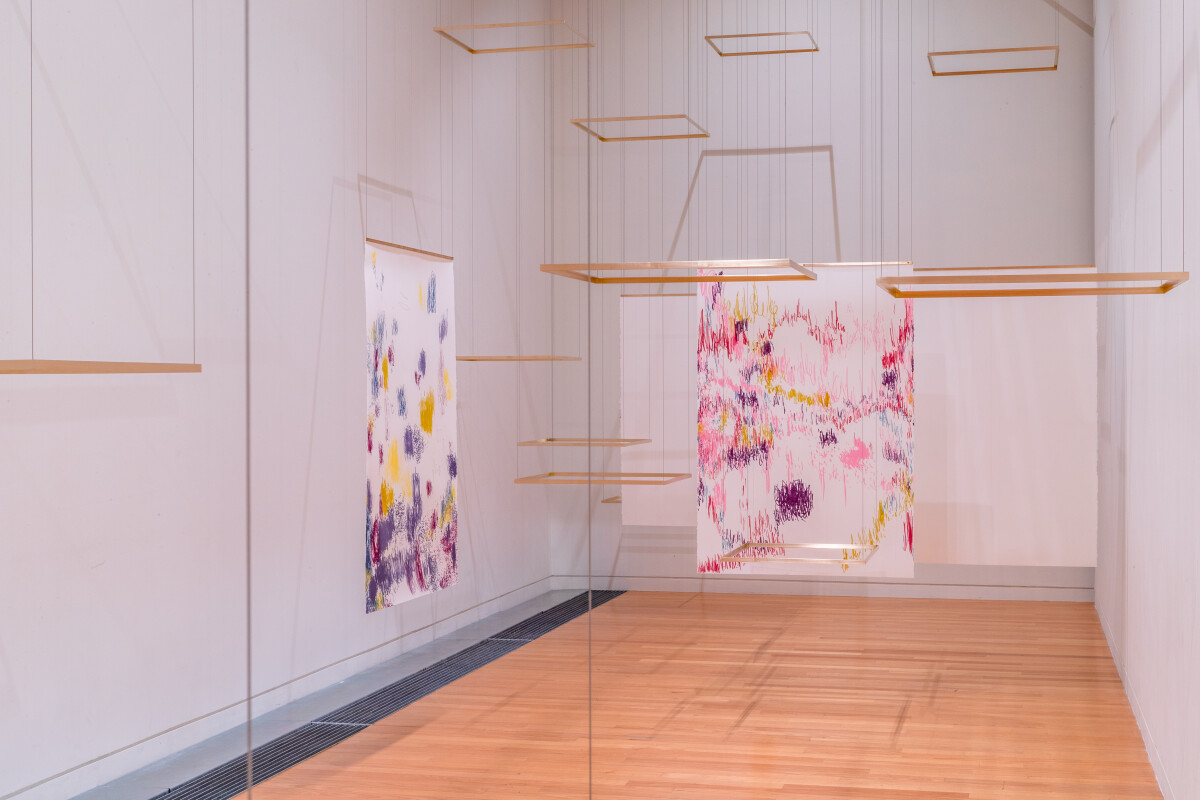 Energy Work: Kathy Barry/Sarah Smuts-Kennedy at Adam Art Gallery
"Energy Work brings together two artists, Kathy Barry and Sarah Smuts-Kennedy, who give visual form to intuited energy fields that exceed the human sensorium. By allowing the notion that there are forces beyond our common experience that connect us to the planet and to alternative dimensions of time and space, they de-centre the human subject and sensitise us to a multi-dimensional universe. Each artist has undergone processes of mental training and research to attune themselves to enable a receptivity to these forces and to the other dimensions from which they derive. For both artists, this is their first substantial survey exhibition in a public institution, and they have worked with Te Pātaka Toi Adam Art Gallery to select bodies of work produced over the last decade and to present them in configurations especially devised for its spaces."
Kathy Barry is based in Te Whanganui-a-Tara Wellington. She has a MFA from Elam School of Fine Arts, University of Auckland (2004) and a Postgraduate Diploma in Art History from Te Herenga Waka – Victoria University of Wellington (2001). While Barry has been exhibiting her work since 2001, her practice took its current turn in 2012, when she began producing watercolour drawings that captured the energy fields she began to see and feel that have structured the series she has produced since that date. Her works have been included in the 32nd Bienal de Sao Paulo in 2016, and in Believe not every spirit, but try the spirits, at Monash University Museum of Art (MUMA) in Melbourne in 2015. She staged Homeworld, a two-person exhibition with Isobel Thom, at Te Uru Waitākere Contemporary Gallery in 2014, after completing the artist residency at the McCahon House in West Auckland in 2012. She has regularly exhibited her work in solo exhibitions at Bowen Galleries in Wellington since 2013.
Sarah Smuts-Kennedy completed her MFA at Elam School of Fine Arts, University of Auckland in 2012. Her practice is focused on a research-based investigation into fields of energy as they engage with conceptual thinking both within art-based languages and other intuition-driven modes of enquiry. Her biodynamic, permaculture teaching garden, 45 minutes north of Auckland, functions as a central axis for her research and allows her to explore the potential of syntropic systems thinking. She was the McCahon House Artist in Residence between September and December, 2016. Her works are housed in private and public collections in Australia and New Zealand. Recent solo exhibitions include Joy Field, Sumer Gallery, Tauranga, 2021; Light Language, Te Uru Waitākere Contemporary Gallery, Auckland, 2017; Frequency of the Earth, Artspace Aotearoa, Auckland, 2017; and Shape Analysis, RM, Auckland, 2013. Her social sculptural commission For the Love of Bees, 2016–ongoing, has triggered a resurgence of regenerative organic urban farms and community compost hubs across Aotearoa New Zealand.
All photography by Ted Whitaker and provided by the Adam Art Gallery
Chartwell is pleased to support this exhibition alongside the Adam Art Gallery Patrons.