Emily Karaka - Matariki Ring of Fire at Te Uru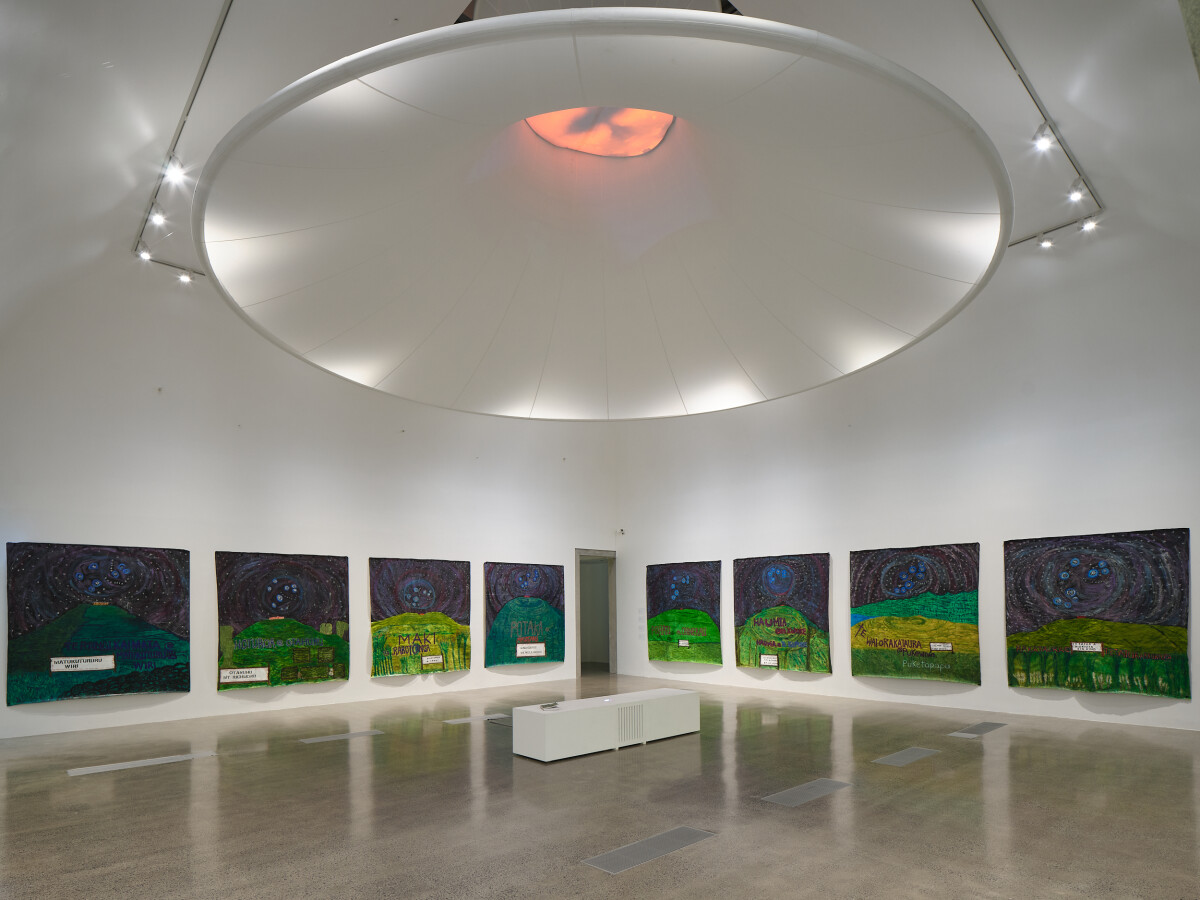 Emily Karaka - Matariki Ring of Fire at Te Uru
The Chartwell Trust contributed funding to enable the production of two multimedia elements: a projection evocative of fire and magma by Emily Parr and soundscape by TeMatera Smith. These transform Te Uru's Gallery 2, enhancing Emily Karaka's suite of paintings of the fourteen Tūpuna Maunga o Tāmaki Makaurau, and representing an exciting new development in her practice.
Tūpuna Maunga o Tāmaki Makaurau
"The Tāmaki Makaurau region has been called 'the most active nexus of complex inter-tribal relationships and connections, transit and trade in Māori society'. Its many mountains were once home to a network of settlements—'mighty pā', as Emily Karaka calls them—surrounded by expanses of cultivated land supported by rich volcanic soils. For mana whenua, the maunga are of great significance, not only as places of safety and abundance, but also as wāhi tapu, or spiritual sites, with deep connections to tūpuna, or ancestors, and atua. The atua include Mataaho, the guardian of the Earth's secrets, and Rūaumoko, the god of earthquakes and volcanoes.
The paintings in this gallery show the fourteen Tūpuna Maunga o Tāmaki Makaurau, which are especially important as embodiments of mana motuhake and of treaty claims redress. In 2012, Karaka was a signatory of Ngā Mana Whenua o Tāmaki Makaurau Collective Redress Deed, representing one of her iwi, Ngāi Tai ki Tāmaki. Two years later, an Act of Parliament legislated the transfer of ownership of the Tūpuna Maunga to the thirteen iwi and hapū of Ngā Mana Whenua o Tāmaki Makaurau, or the Tāmaki Collective.
In Matariki Ring of Fire, I depict Ngā Tūpuna Maunga o Tāmaki Makaurau at the time of Matariki, with the whetū in the sky above them. In some paintings, settlements and gardens are visible. The mountains are inscribed with names of founding chiefs that express the whakapapa of the maunga. The fires at te tihi, or the top, of each maunga acknowledge the ritual ahi kā practice as carried out at Matariki in times past. They also demonstrate the concept of ahi kā, the burning fires of occupation, which express our enduring connection to the whenua as the people of this land.
A projected visual loop to simulate the sensation of being inside a volcano has been produced by Emily Parr. TeMatera Smith of AAA Records has created a soundtrack representative of rumbling volcanoes and crackling fire. It also features taonga puoro, Māori wind instruments. Smith's sound is designed as a call to the other volcanoes across the Pacific, to link the fourteen Tūpuna Maunga o Tāmaki Makaurau with the Ring of Fire of Te Moana-nui-a-Kiwa." - Emily Karaka
Photographs by Samuel Hartnett. Courtesy of the artist and Te Uru Waitākere Contemporary Gallery.